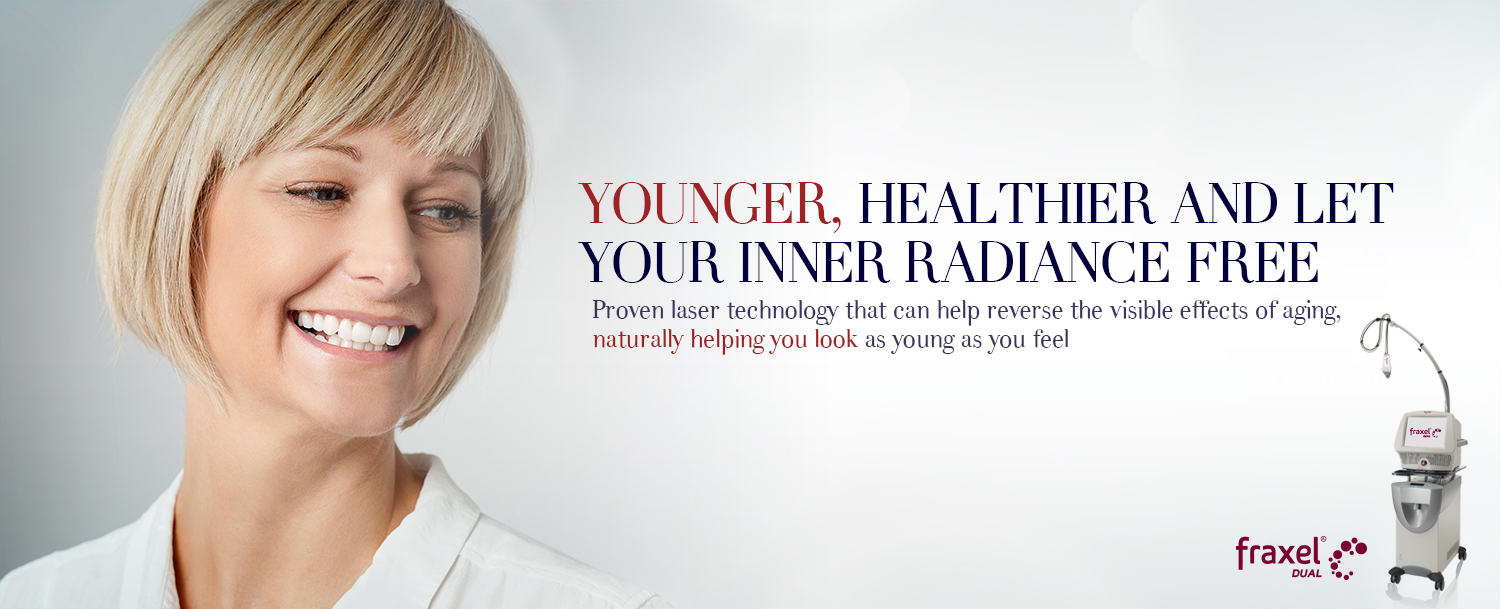 Laser resurfacing utilises the Fraxel Dual Laser, a technologically advanced system that seeks to regenerate the appearance of skin conditions or treat minor facial flaws through removing the textured imperfections. The treatment is specific because it focuses on the targeted areas that require resurfacing. The primary advantage of the Fraxel Dual Laser system is that it can be used to treat various features of the body, not only the face. It is also known as the "Total Body Laser" that is employed to treat different skin conditions on the body including the skin appearance on the chest, arms, hands, upper back and legs.

The Fraxel Dual 1550/1927 advanced laser technology targets the ageing and sun-damaged skin with microscopic laser precision. The laser focuses on and penetrates deep into the skin to increase the rate of the body's collagen restoration. The surrounding skin tissue is left intact, while the Fraxel Dual Laser is treating the targeted skin tissue. This resurfacing treatment promotes the internal growth stimulation of new and healthy biological skin.
Laser Resurfacing Can Treat:
Scarring
Age spots
Crow's feet
Droopy eyelids
Enlarged pores
Melasma
Saggy skin
Scarring of skin
Skin discoloration
Sun-damaged skin
Wrinkles
Rough skin
Uneven skin tones
Results are immediate and progressive with optimal skin improvement. A specific timeframe is incorporated into the treatment structure to allow downtime to take place and the increase in the production of new collagen and elastin to replace damaged skin tissue.
During the first 24 hours after treatment, the individual may experience the feeling of their skin being sunburnt, and it will either be pink or red in appearance.
An individual's skin colour will naturally become even in tone in 1 to 2 weeks, and the sunburnt appearance will repeat. It is important to use moisturiser to minimise the appearance of dry flakes and to exfoliate the sunburnt skin.
Through clinical study trials, it is evidential that effective treatment courses include 3 to 5 sessions spaced 4 weeks apart. Depending on the skin condition and the individualised treatment plans, the patient and BSL Clinic's dermatologist may choose to space the treatment sessions further apart to allow for the required downtime to take place.
Skin Care After Treatment
Apply sunscreen protection that is SPF 30 or higher.
After the final treatment, avoid direct sun exposure for at least 3 months.
Wear a wide-brimmed hat when exposed to direct sunlight.