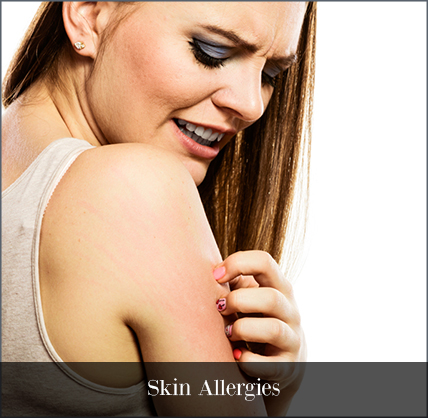 What are skin allergies?
Skin allergies are conditions where the body is highly sensitive to certain substances including pollen, grass flower, fungi or food products. It produces chronic symptoms when these substances enter the body, in which the cells produce histamine causing allergic reactions.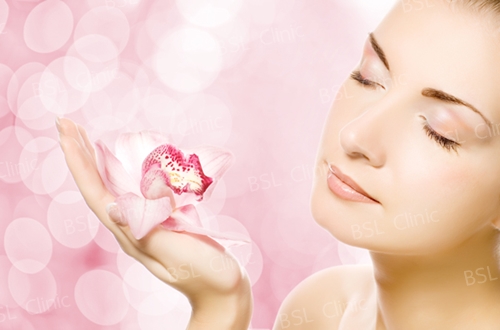 Causes of skin allergies
A family history of skin allergies may result in the individual having a higher chance of developing negative reactions to specific substances.
Being in both natural and built environments may result in the individual being excessively exposed to dust, cigarette smoke, air pollution, pollen and grass flower.
How the body processes these substances?
The substances that enter the body causing allergic reactions occur in the immune system. The immune system seeks to recognise foreign substances entering the body including viruses and bacteria and is determined to fight the unwanted intruders. However, allergies are caused by the immune system first reacting to the substances, secreting histamine at various tissues, resulting in inflammation. These symptoms include nasal congestion, angina, rashes or urticarial, which have the potential result of developing into severe consequences, even death.
How do we recognise an allergy?
It is not always easy to recognise symptoms of an allergy. Sometimes, even the common cold has similar symptoms to skin allergies, including sinus inflammation. It is best that an individual seeks further advice from a qualified dermatologist to make a proper diagnosis and to provide the most suitable treatment.
What are the symptoms of allergies?
Respiratory – similar symptoms to changing weather conditions, conjunctivitis, itchy nasal congestion, sneezing, runny nose and coughing.
Cutaneous – symptoms of rashes, urticaria and atopic dermatitis.
Gastrointestinal – symptoms of diarrhea, vomiting and indigestion.
Treatment Methods
A dermatologist may prescribe medications or to assist the body to immunise itself through injecting substances that cause an allergic reaction in the body. This in-turn effectively builds the body's immunity, minimising the potential of allergic reactions.
Preventative Measures
Avoid exposure to allergens.
Reside in a well-ventilated area.
Maintain a clean home environment to reduce the accumulation of dust particles.
Eliminate unwanted pests in the home environment including rats and insects.
Avoid consuming foods containing allergic substances.
Manage levels of stress and anxiety.
Keep a regular sleep pattern.
Consume nutritious foods.
Maintain a regular exercise routine.

Skinesia Products
These specially formulated products moisturise the skin to create healthier and vibrant skin. The products contain unique ingredients to enhance the protection and rehabilitation of damaged skin. The products also help reduce wrinkles and act as moisturisers to protect and rejuvenate dry and rough skin. This concentrated formula is most suitable for patients with sensitive skin because it does not cause irritation, thus reducing and or preventing redness, itchiness and allergic rashes.
Scientifically Proven Effects of Skinesia Products
Prevents skin's redness, irritation, allergies, dryness, stress, ageing and inflammation.
Formula specially developed for sensitive skin.
Extra gentle for infants and young children.
Immediately relives the five major symptoms of eczema including itchiness, dryness, scaling, roughness and redness.
Minimises moisture loss in the skin.
Maintains the skin's moisture balance.
Excellent clinical results on acne with both anti-microbial and anti-inflammatory properties.
Effectively treats skin irritation, allergies, atopic dermatitis, acute and chronic inflammation.
Reveals a healthier, younger, smoother, softer and vibrant skin appearance.
Skinesia Ingredients
Ceramide Complexes
Support the renewal of the skin's natural protective layer and form an effective barrier against loss of moisture.
Most suitable for long-term protection, repairing sensitive and dry skin.
Shiso Extract
Is a natural anti-allergic and immune regulating substance derived from the green perilla leaves grown in Hokkaido, Japan. Clinically proven to be effective in treating skin irritation, allergies, dermatitis, acute and chronic inflammation.
Dipotassium Glycyrrhizinate
Effectively treats atopic dermatitis, subacute, skin irritation, inflammation, allergies and chronic skin diseases.
Phytosphingosine
A natural sphingolipid, which maintains skin barrier functions, anti-microbial and anti-inflammatory properties.
Tocopherol Acetate
A form of vitamin E, which is a natural skin-moisturizer and antioxidant. It reduces the formation of free radicals from exposure to UV radiation. It also promotes the healing process, strengthens the skin's barrier function and prevents the skin's loss of moisture.
Aloe Vera
Relaxes, calms and soothes the skin.
Maintains the moisture balance in the skin.
Cucumber Extract
It has a significant soothing effect on the skin.
Its antioxidant properties soothe, reduce skin irritation and relieves swollen skin.
Contains essential minerals including magnesium, potassium and silica to assist in minimising wrinkles and fine lines.
The extract contains anti-inflammatory qualities to heal cuts, burns and insect bites.
The moisture-regulating product that revitalises and hydrates the skin.
Defensive Rescue Oil
Prevents skin hyper-reactivity, irritability, redness and allergies.
Immediately soothes the skin.
Effectively regenerates the skin barrier.
Protects and improves skin.
Provides anti-ageing properties.
Creates even skin tone complexion for flawless and radiant skin.
Pre-treatment with Defensil Rapid Recovery stimulates the epidermal layer forming efficiency up to 300% in comparison to lack of treatment.
Article By
Dr Wipanee Akarapusit, M.D.
BSL Clinic's Dermatologist