Body Contouring Morpheus8
In a single strike, its energy permeates deeply into 3 layers of skin, tightening the body skin for the full body and creating pleasant skin.
There is no more cellulite, stretch marks, sagging, scars and loose body skin with a helper that can restore firmness to your skin. Technology Morpheus8 body is equipped with a tip head that can reach every depth of the skin layers to treat skin problems directly on the spot, thanks to its unique body design. It can permeate the skin up to 8 mm deep (dermis layer and subcutaneous fat layer). Morpheus 8 Body can solve all your skin concerns.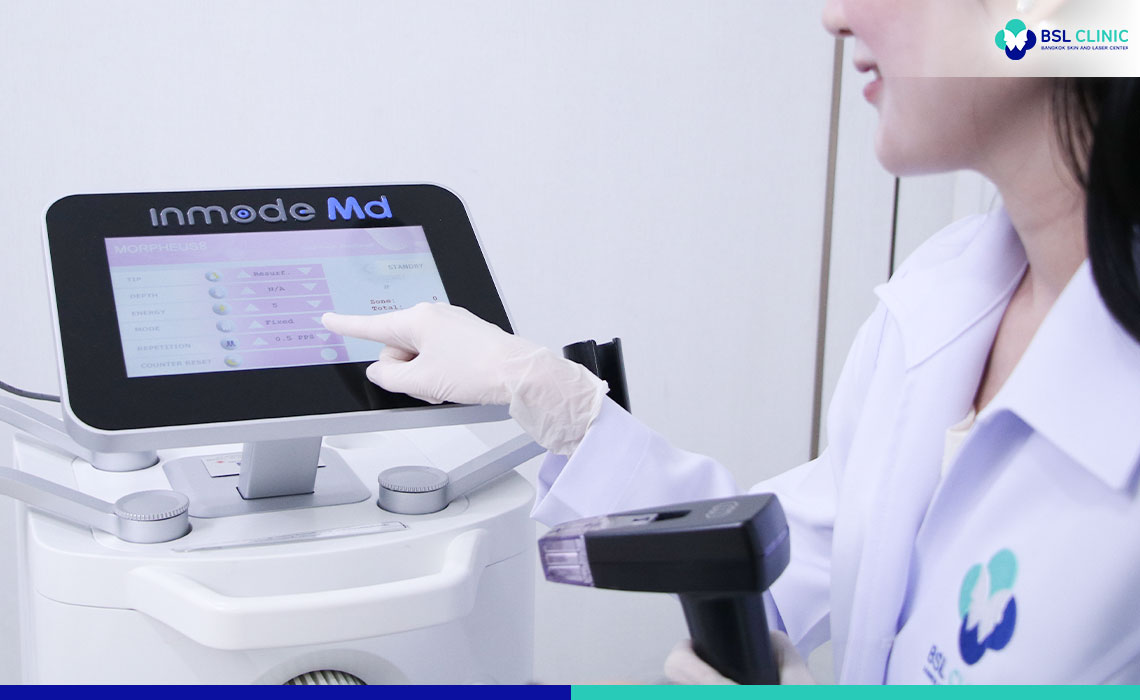 The most advance and recent technology uses RF energy that can permeate up to three levels of skin in one shot. The non-surgical lifting effectively stimulates dermal and subdermal adipose remodeling. It has an innovative equipment design with an adjustable depth tip that delivers radiofrequency radiation precisely into the layers of your skin that need to be treated, effectively correcting skin issues. Whether it is a problem with wrinkles that make the skin look uneven, including stretch marks, sagging skin, scars and cellulite, Morpheus 8 body is safe and suits all skin types, and all skin tones, certified by the US Food and Drug Administration.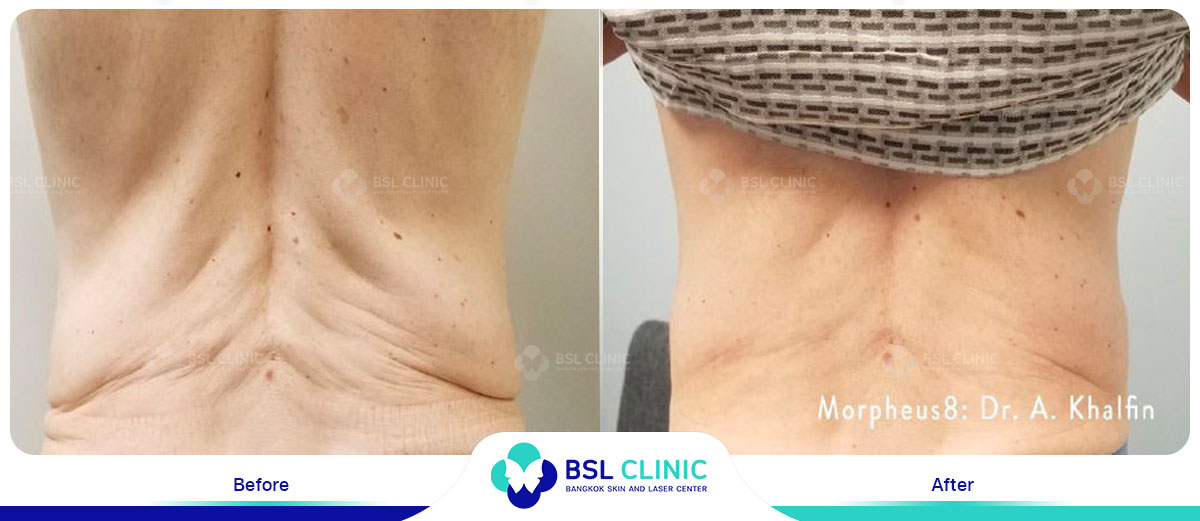 For skin that extends outward from the waist, love handles and skin laxity, when using Morpheus8 body, fat becomes shrunk and Morpheus8 body effectively remove excess fat, lifts and tightens the skin.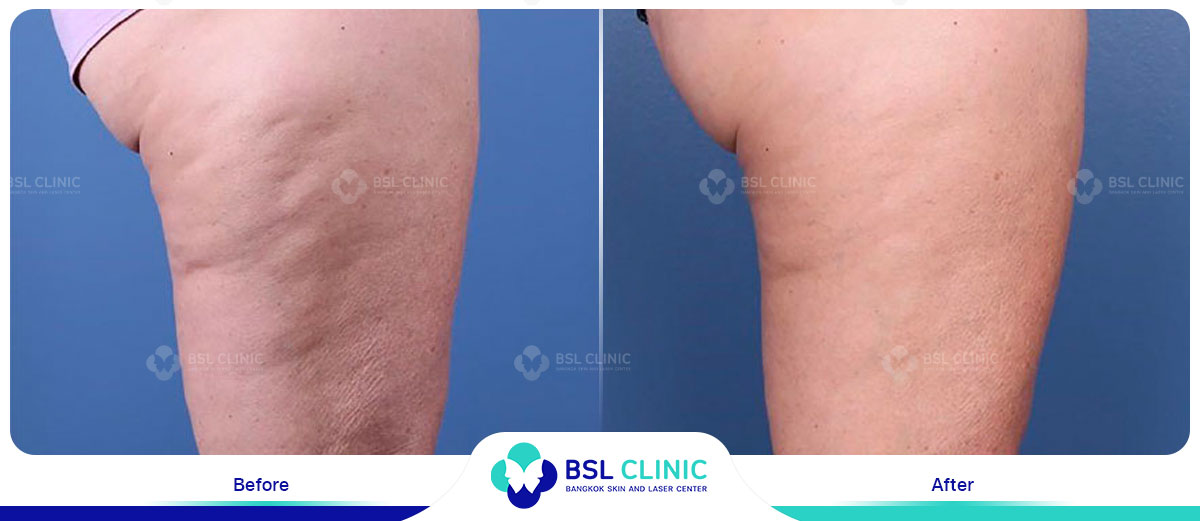 Cellulite, wavy and sagging skin, and uneven skin tones can all be treated with this device. It smooths the skin, making it appear smoother, firmer, and tighter.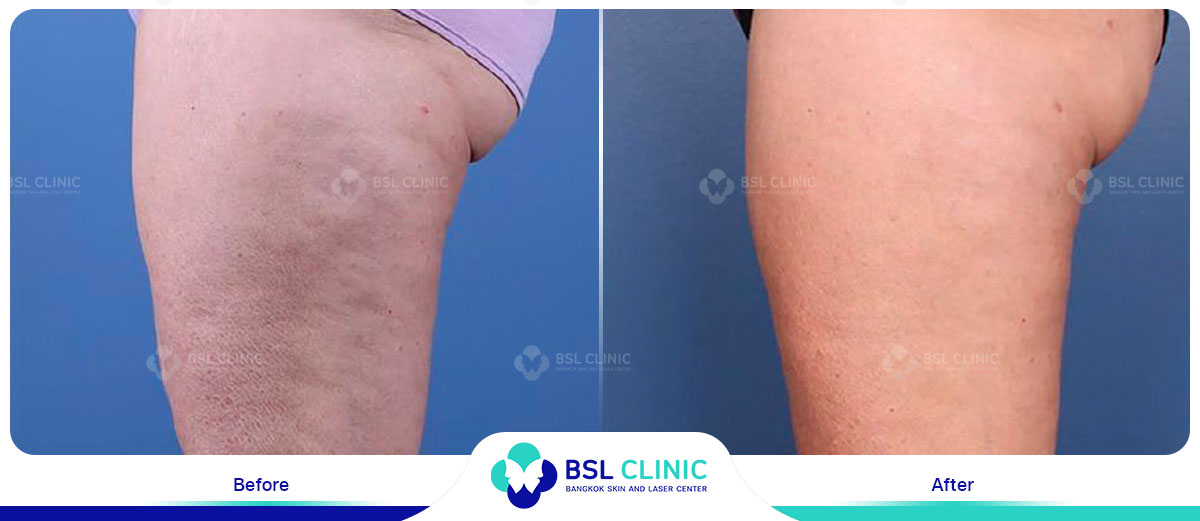 Simply try Morpheus8 body, cellulite and wavy skin will become disappeared. It gives you smooth, pleasant-to-the-touch skin and encourages you in putting on clothes and having more fun dressing up.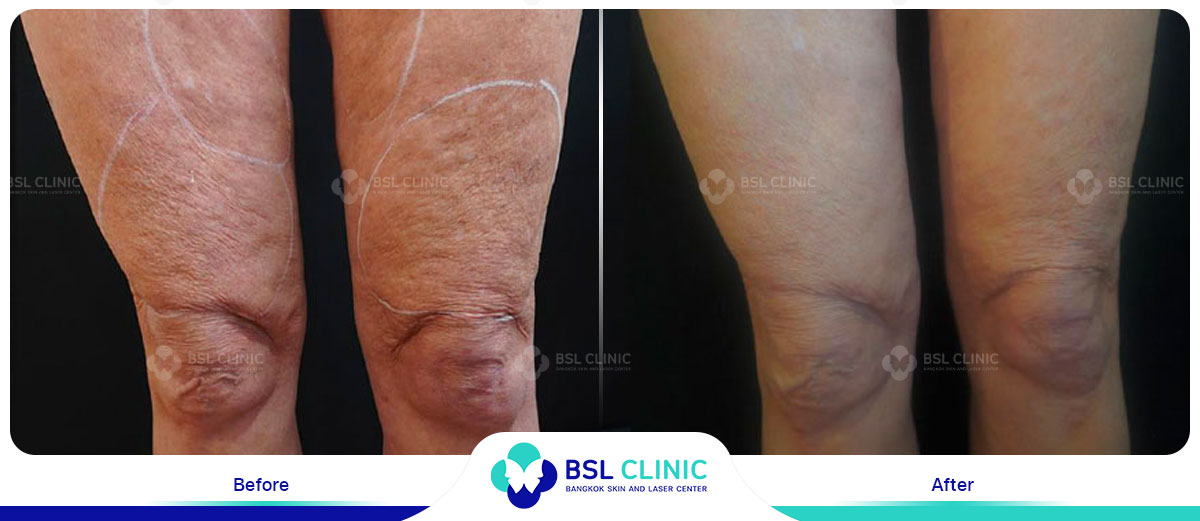 Cellulite and orange-peel skin above the knees are easily turned into the firm and smoothened skin.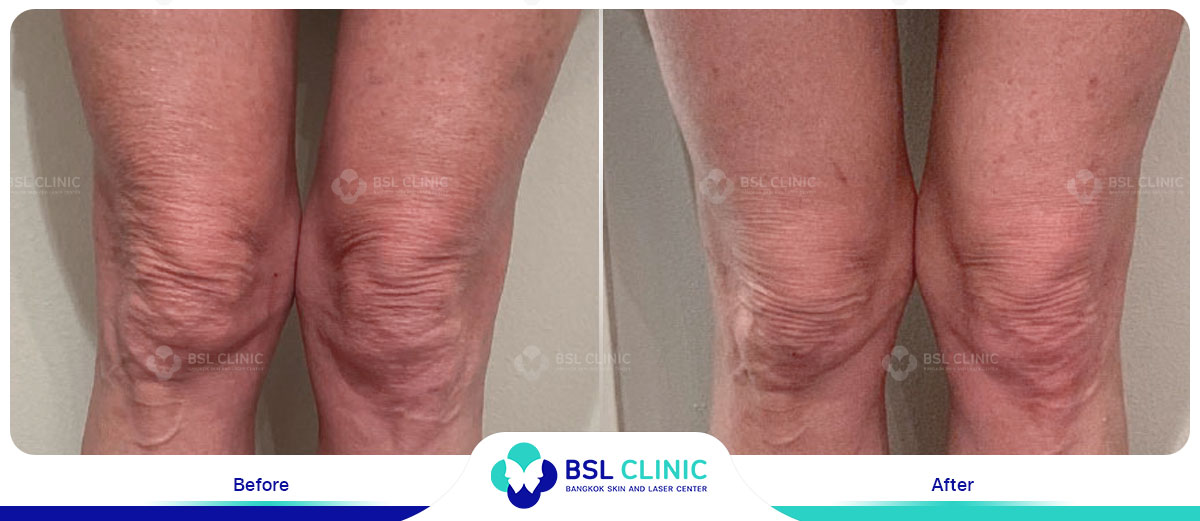 Wrinkled, sagging skin can be transformed into smoother and younger skin. It is lifted and tighten to be firm and smooth again. The result becomes noticeable even from the first treatment and you see the most obvious results after the third treatment.
The Morpheus8 body's specialization and the value that your skin will gain.
The Morpheus8 body device has featured the Fractional Radiofrequency and transmits it through golden mircro needling to the deeper skin layers that are the cause of the skin problem you want to solve. The Morpheus8 body tip's advantage is that it can adjust the depth of microneedling to deliver energy to the skin layer that requires treatment up to 8 mm deep. It can be stated that it is a customized treatment design tailored to individual patients. Thus, the final result is superb and relatively satisfactory.
How does the Morpheus8 body work?
Fractional Radiofrequency (FR) is the most effective energy that this device uses. The energy is delivered through a gold-plated 40 pin. With Multi-layer technology, we can adjust its depth to 2, 3, and 4 millimeters (dermis and subcutaneous fat) to deliver RF energy to the targeted skin layer.
The device's unique feature is that when a doctor shoots a single shot of energy, the pin can simultaneously release energy into three layers of the skin.
This feature allows energy to be turned into the heat at safe temperatures and delivered to the subcutaneous fat layer, causing fat to shrink and tighten concurrently.It also activates collagen production and triggers collagen remodeling at the dermis. Consequently, the outer skin shrinks and becomes tightened and contoured, giving you the best-looking skin. We encourage you to choose Morpheus8 body to take care of your skin and figure.  We are certain that you will be pleased with the results with no surgery and downtime.
Morpheus8 body care has six distinct benefits.
How many times should the treatment be performed? How long does it take to see the results?
It simply requires you to come in once a month to have this device tighten your skin. Doctors that specialize in body care advise doing it three times, with a month off in between. You will gradually notice that your skin has been firmed and tightened after the first session.
What areas of the body can be treated with Morpheus8 body?
The Morpheus8 body can lift the skin in all areas. It can be used to treat various parts of the body, including small areas: the knees, arms, elbows, legs, buttock, waists, underarm skin, and love handles. Morpheus8 body can also be integrated with additional fat removal technologies such as Liposonix, Body FX, or UltraShape Power for even better results.
Pre-treatment preparations for Morpheus8 body
You do not need to make any particular preparations. You simply want to maintain the appearance of a specific area of your skin in order to make it appear firmer and healthier. You thus can come to consult a certified dermatologist specialized in body treatment for contouring and slimming. 
The following are the steps in the treatment:                                          
–  Apply a numbing cream and allow 45-60 minutes for it to take effect.
–  The medical staff wipes out the numbing cream and clean skin with anti-septic solution.
–  The dermatologist performs a complete re-evaluation of the condition and any further needs.
–  The certified dermatologist will determine how much energy to release to be congruent with the individual patient's problems and skin type.
–  Throughout the treatment, medical staff would blow cold air to make you feel comfortable, relaxed, and pain-free.
–  After the treatment is done, patients will be applied post laser treatment cream with BSL special-made post laser care products. 
Reactions and feelings during doing Morpheus8 body
While the procedures, many patients say that they do not feel any pain. Because the energy is released beneath the skin and does not harm the upper skin or surrounding skin, they feel at rest and calm. Anyone who is fearful of getting hurt or who is reluctant to try. We can say it does not hurt, but it makes you feel quite relaxed.
Apply a cold compress on the treated skin area for approximately 20 minutes in order to comfort the skin.
Apply post laser skin care products to moisturize the skin after 1 to 3 days of treatment.     
After 1-3 days after the treatment, very tiny thin brown scabs will appear on the skin. Moisturizers, nourishing lotions, and SPS 30 sunscreens can then be applied for four consecutive weeks. You can continue to wear cosmetics as usual; the thin scabs will last for 3 to 5 days, approximately. Once the scab disappears, you will get a new firm, smooth and youthful skin you ever feel.