BSL Clinic is the only dermatology clinic in Thailand that provide the first and newest
 "PicoWay FUSION", the latest platform of picoway laser with 532 fusion handpieces along with full complete set of 1064,730,532 handpieces to individualized the treatments for wide range of skin problems and all skin types (from fair to darkest skin type) to serve both local Thai and foreign patients.
The PicoWay Laser is one of the newest and most advanced aesthetic lasers in the industry used for many skin problems including tattoo removal, dark spots, wrinkles, acne scar etc. 
The best thing is that Picoway is a lot less painful, unlike other methods and give you the effective and fast results. Picoway laser does not allow the skin to burn like other slower lasers so there will be less to no complication. Using an advanced, ultra-short, picosecond laser skin treatment, the PicoWay specializes in a number of different aesthetic enhancement treatments, including:
Acne, acne blemish & Acne Scar Removal

Wrinkle, Fine Line, Skin aging, & Facial Fold Treatment

Striae and Stretch mark

Large pore, Uneven skin texture and skin tone

Dark Spot & Hyperpigmentation Removal

Melasma (even very dark and stubborn melesma)

Photo-aging skin, and Uneven skin color

Tattoo removal (even stubborn or hard to treat tattoo)
The PicoWay laser uses different handpieces and laser wavelengths for treatment of these conditions. Our certified dermatologist will closely evaluate which treatment method is right for your condition in order to get the best result that suit you.
While traditional lasers generally use heat energy, the PicoWay laser uses a photoacoustic effect that is able to reach beneath the skin's layer. The PicoWay laser treatment in BSL clinic offers a number of different specialty settings and handpieces, allowing our dermatologists to perform treatments that individually suit each patients' skin problems.
All PicoWay laser treatments use a picosecond laser with high power and ultra-short pulses. A picosecond is a trillionth of a second! The ultra-short pulses with the PicoWay laser are important because they lead to a "photoacoustic" effect that avoids heating the skin rather than a photothermal (or heat) approach that heats the skin and can lead to side effects, such as downtime, hyperpigmentation and scarring.
Because the PicoWay laser uses ultra-short laser pulses, the result is a laser that has low to no downtime after treatment. Patients can resume normal activities and even apply makeup over acne scarred or wrinkle treated skin within a day of treatment.
What Can the PicoWay Laser Treat?
Melasma, Mask of pregnancy
Melasma is one of the most skin problems among patients with darker skin types and appear on face, neck, arms, chest, back and legs and sometimes occur together with other pigment skin problems such as freckles, sun spots, age spots. Many of these skin discolorations can be distressing and affect quality of life. Picoway is one of the most advance and perfect solution that BSL clinic provide to bring you the bright, clear and glowing skin to get rid of these pigment skin problems with fewer number of treatment sessions and no downtime. Thousands of patients in Thailand and oversea come to BSL clinic to have melasma and dark spots treatments. Because at BSL clinic, not only treat and clear melasma/dark spots for our patients, but also provide long term treatment result, emphasize in preventing the recurrent of melasma for our patients.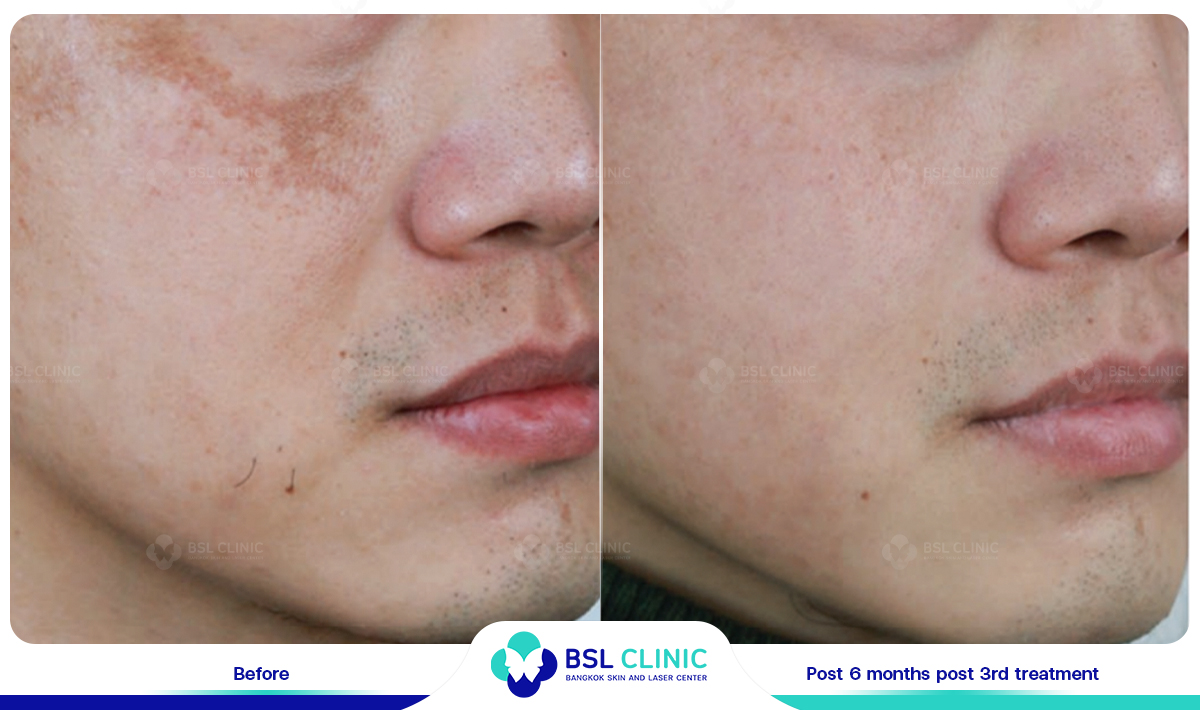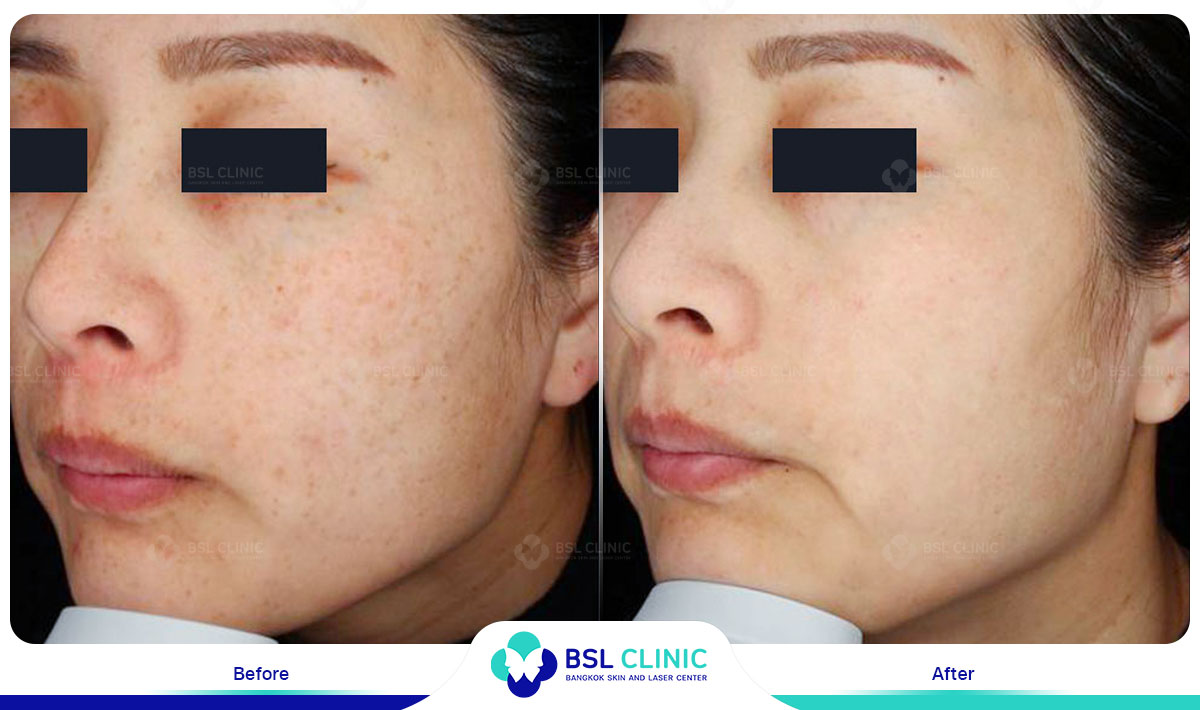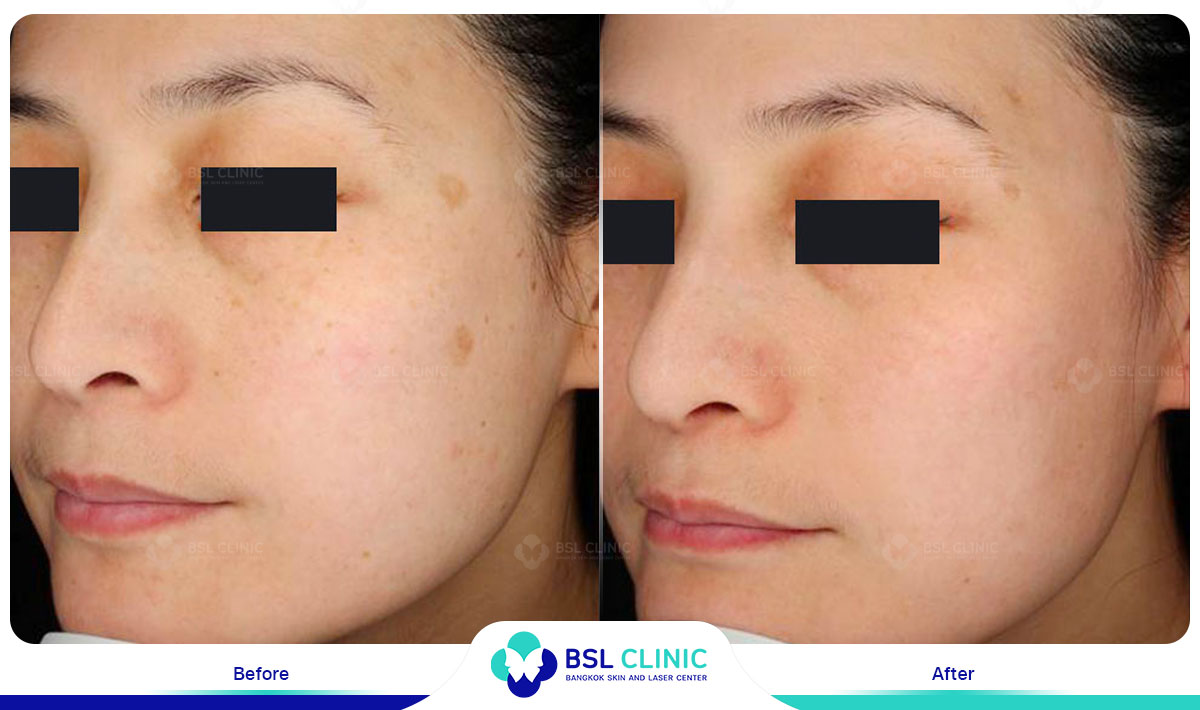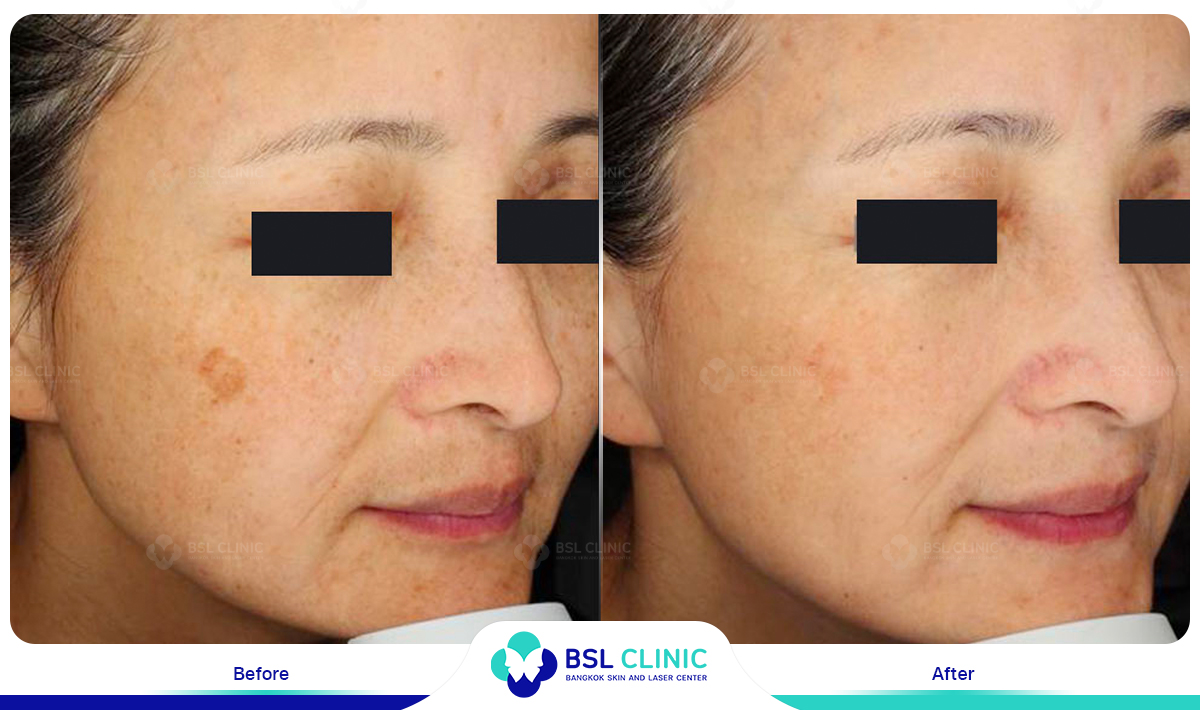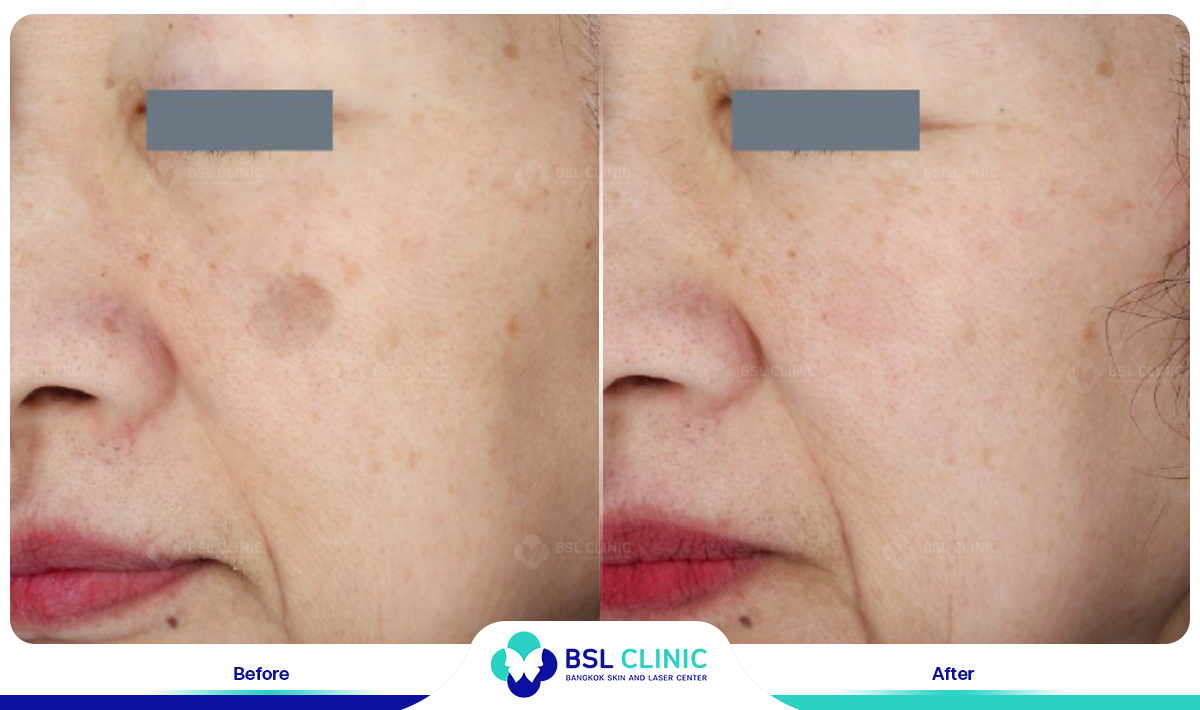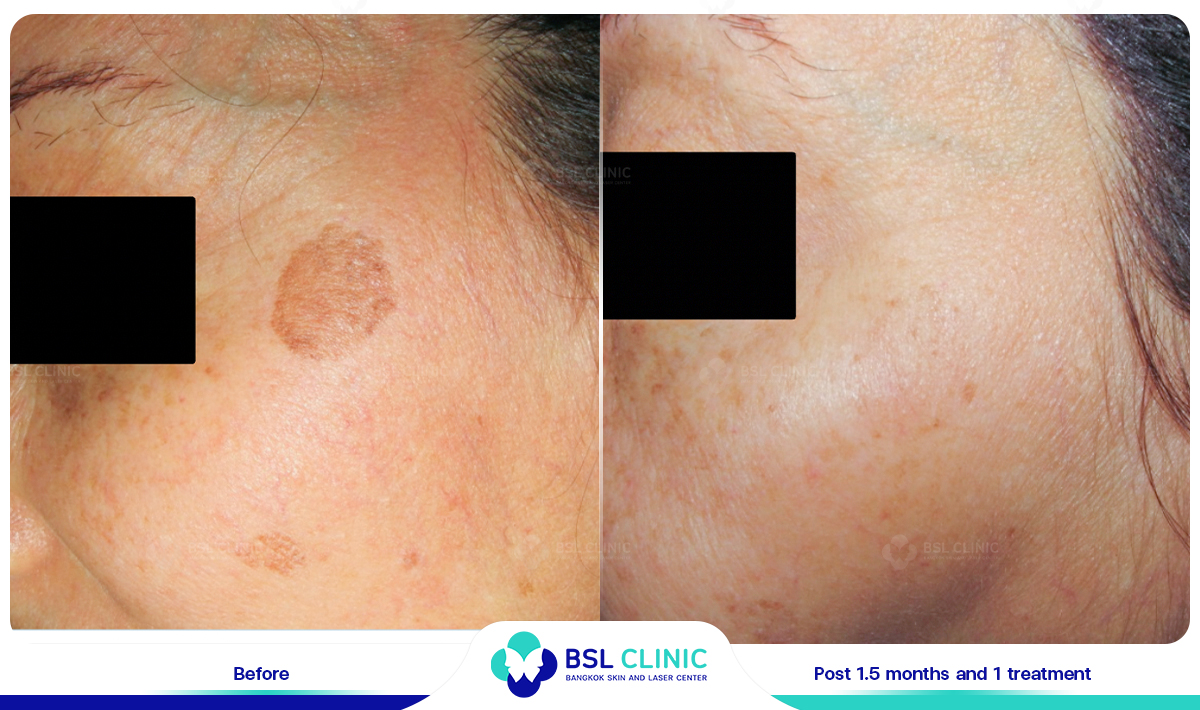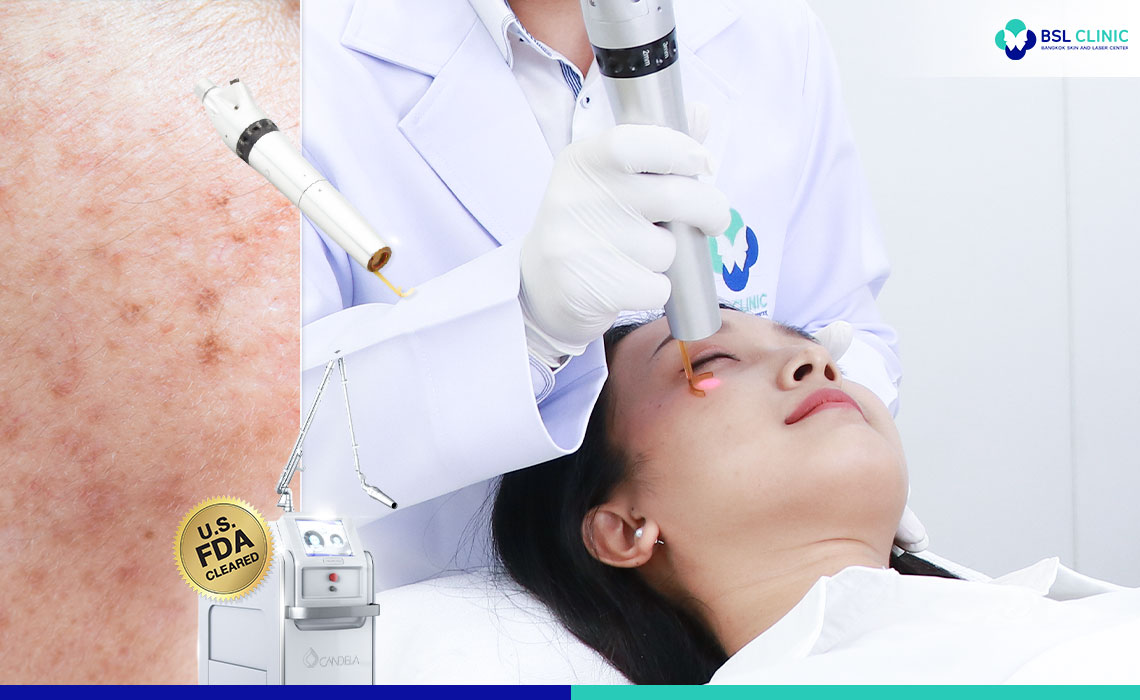 Dark spot and hyperpigmentation are one of the most popular skin problems for patients visiting at BSL clinic. With more than 35 years of experience in aesthetic laser treatment, we provide numbers of treatment methods that will fit each patient individually and give them the highly effective and fast results with little to no downtime. 
Whether you're experiencing slight discolorations or strong hyperpigmentation at face or all across your body, the PicoWay offers the perfect solution to clearing your skin and creating bright and glow skin. Dark spots and lesions, such as freckles, liver spots, sun spots, age spots, birthmarks, dark spots after skin injury or scar and all types of brown patches can be effectively treat. The PicoWay works by penetrating the skin's surface and attacking each individual pigment spot without damaging skin surface– leaving patients with noticeably improved skin within only a few sessions.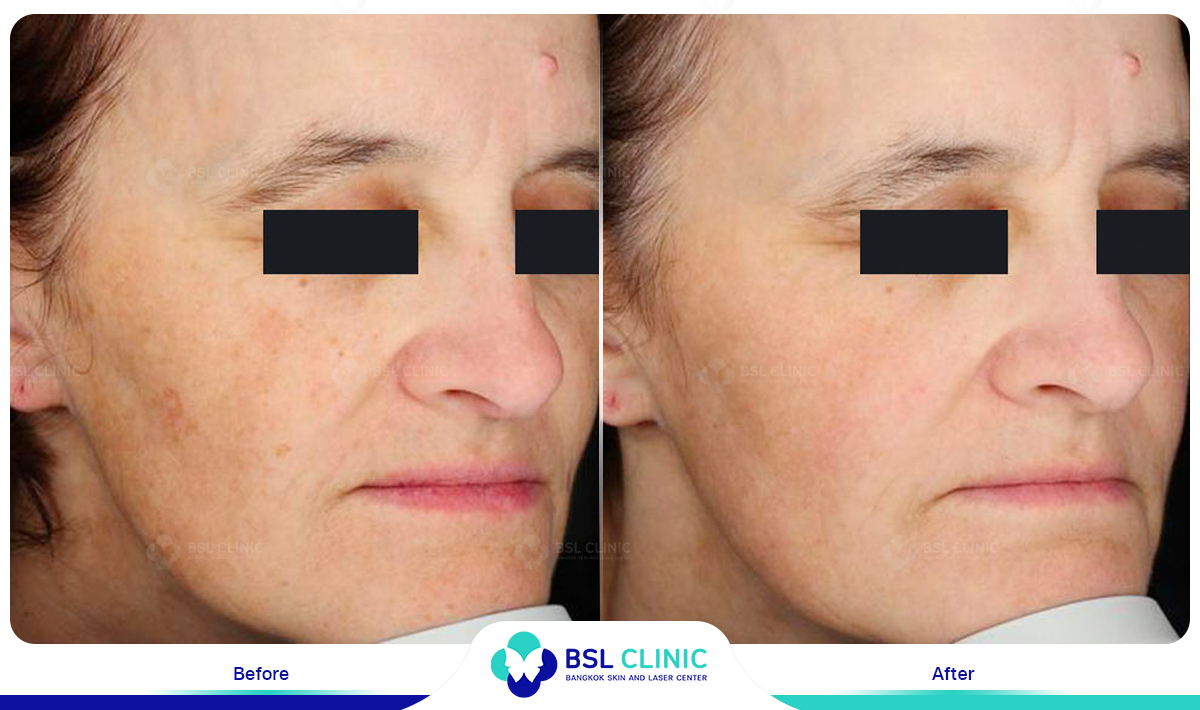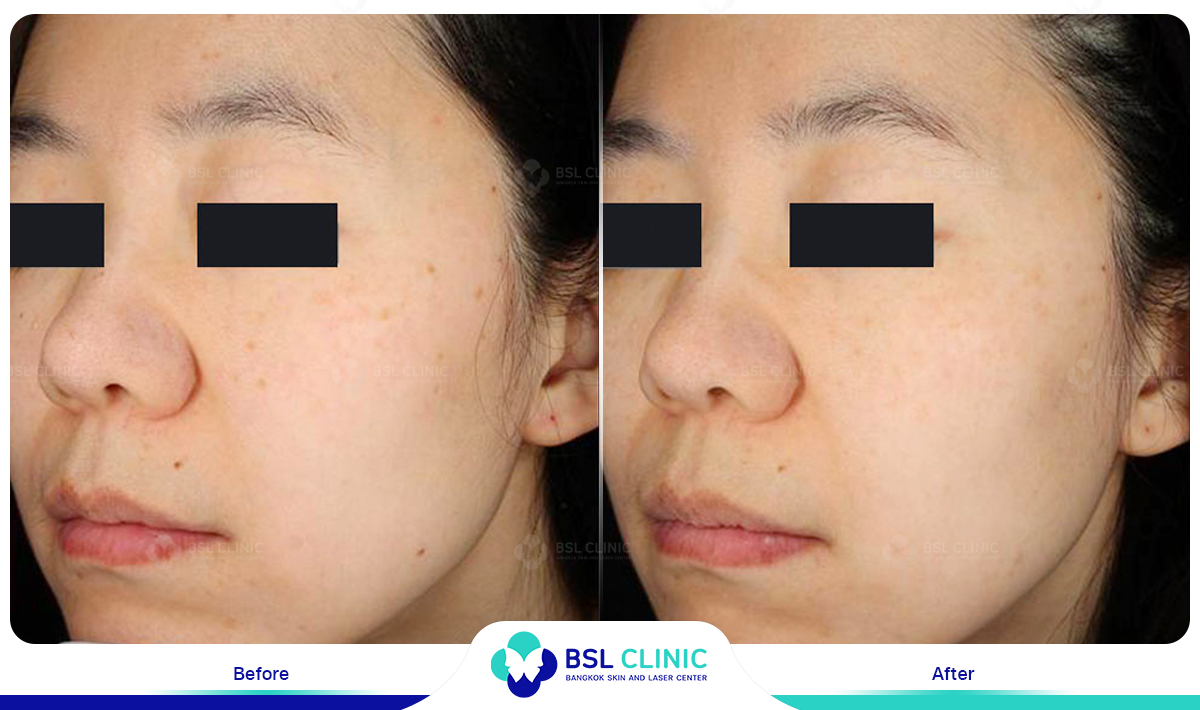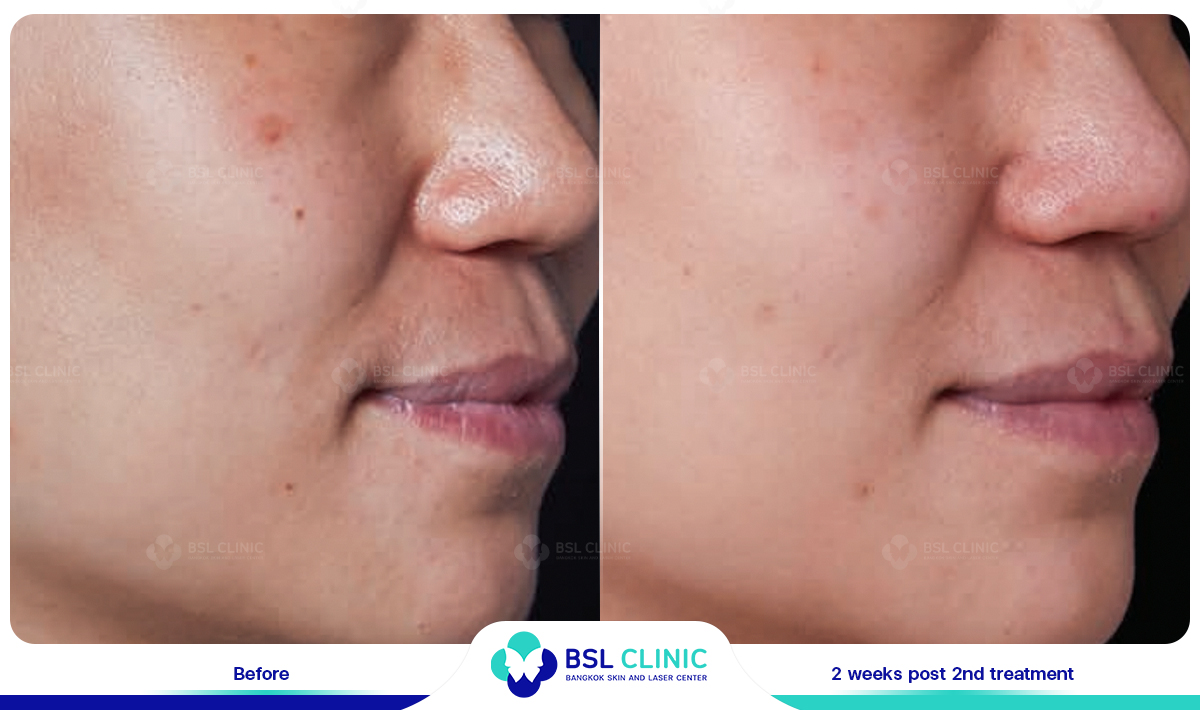 Wrinkles, Fine Lines, Large-pores, Uneven skin texture and tone
Millions of people world-wide each year seek treatment for their wrinkles, large-pores, uneven and skin texture, and want younger and smoother skin. Losing of collagen in the skin is the main cause of these problems.
The PicoWay Resolve applicator on the PicoWay system is a non-invasive, needle free treatment option for these skin problems. Picosecond lasers are proven to stimulate collagen and elastin and offers the perfect solution! As a result of losing collagen and elastin, the skin loosens and loses its volume. Once the volume is gone, gaps develop below the skin's surface, and those gaps form wrinkles. The ultra-short, laser pulses are able to reach the inner levels of the skin without harming the outer, and at the dermis, stimulate the production of collagen and elastin. The collagen fills the space creating the wrinkles, while the elastin tightens and prevents the spaces from developing again.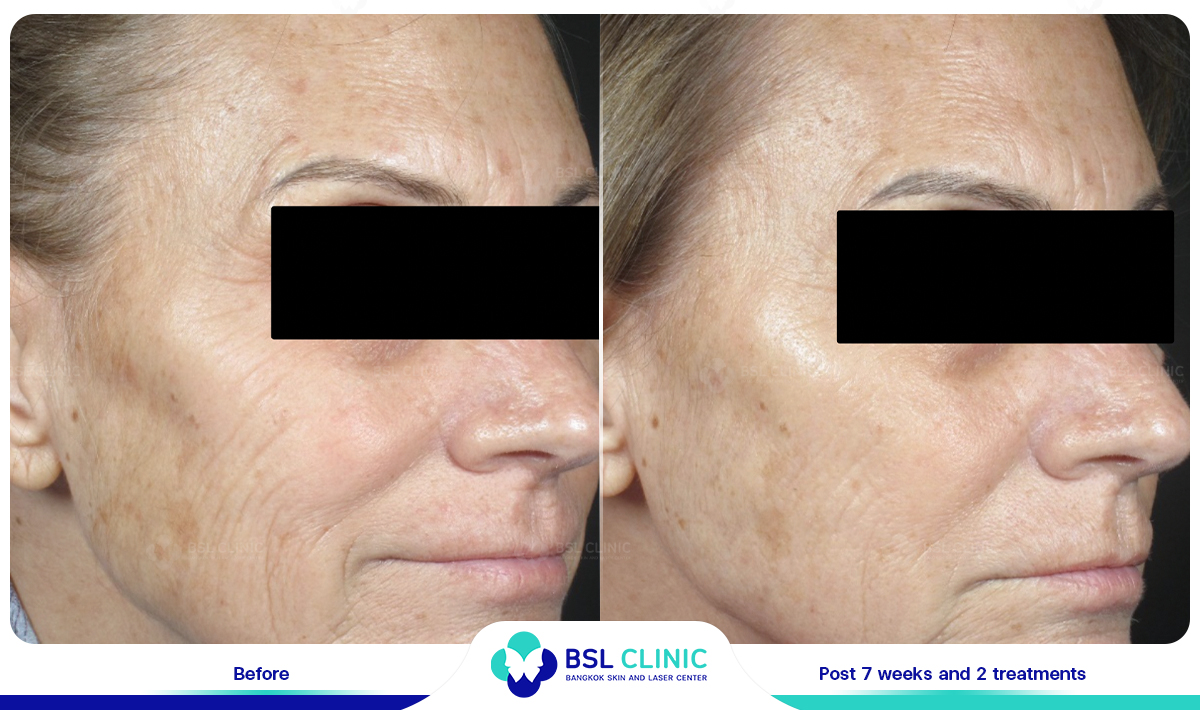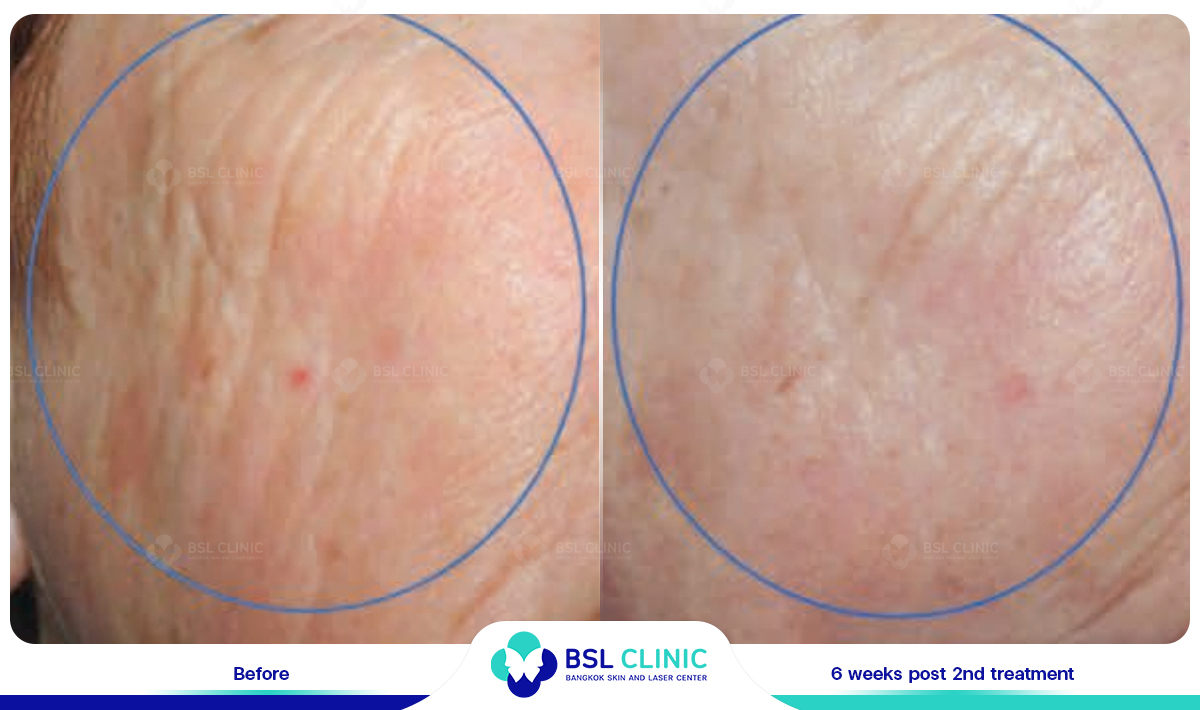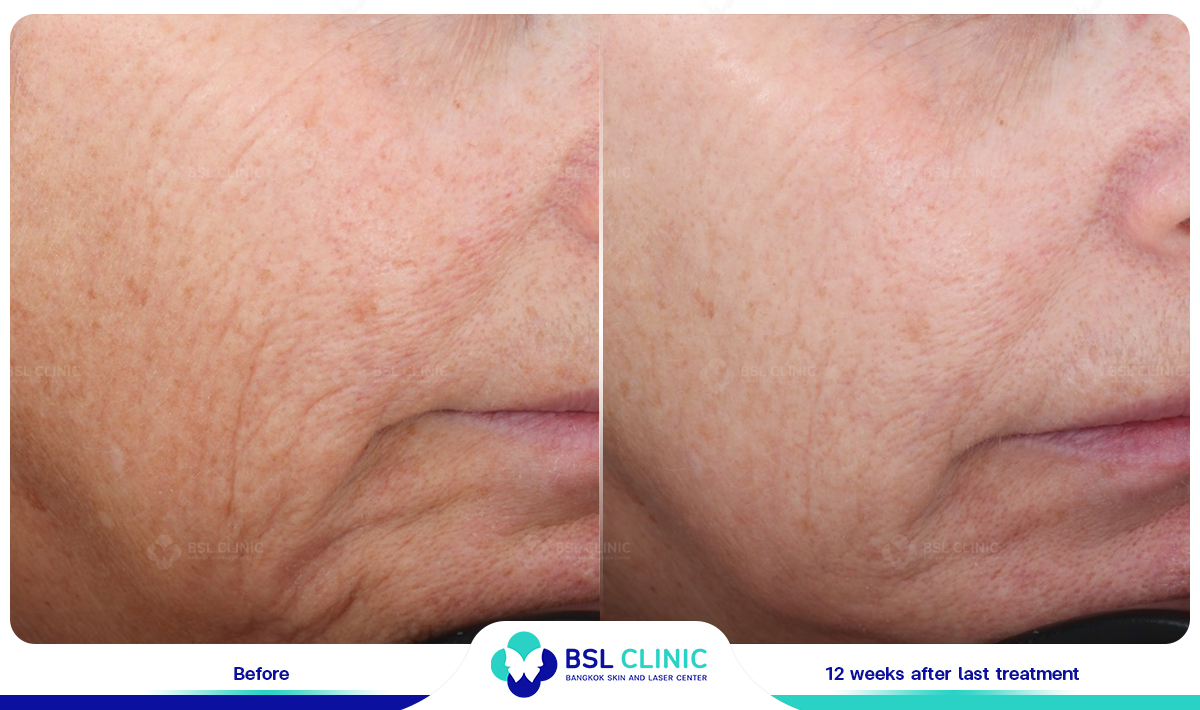 Acne, Acne Blemish and Acne Scars
Acne is one of the most common skin problems that visits at BSL clinic amongst both men and women, regardless of age. And research shows, that close to 40% of those who suffer from acne develop some type of scarring as a result. Acne scars generally occurs as the result of develop fibrosis along with losing collagen within the skin (collagen is a natural skincare compound that gives the skin its soft, supple feel, as well as its volume and natural glow). Without collagen skin is more susceptible to scarring.
PicoWay Resolve treatment uses an ultra-short, picosecond laser that reaches below the surface of the skin to stimulate production of collagen and elastin, without breaking the outermost layer of the skin. In clinical studies, 94% of treated areas improved and patients were highly satisfied with results.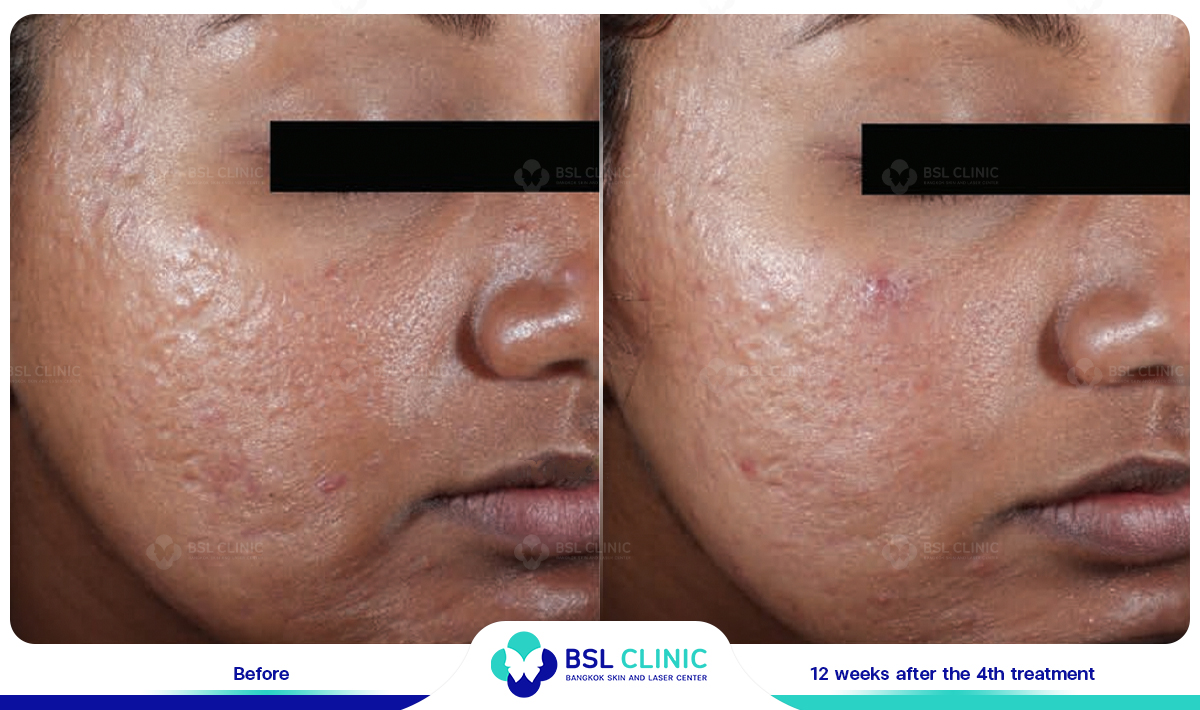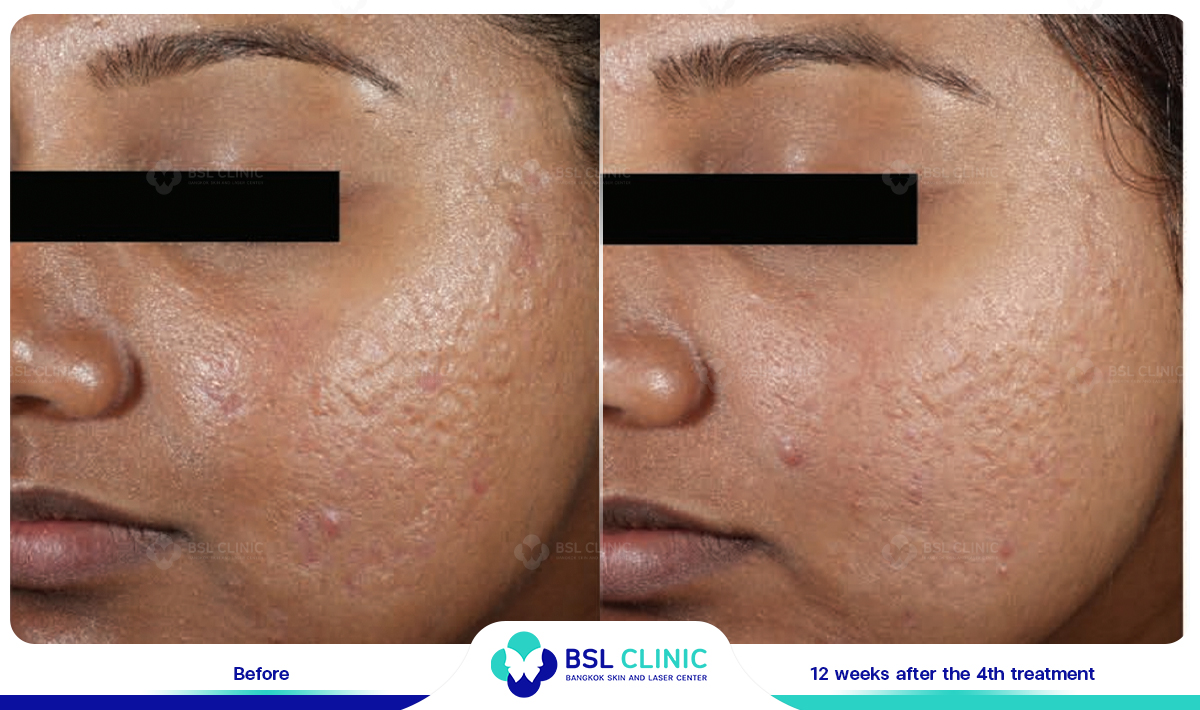 Is the PicoWay right for me?
If you are looking for a laser treatment that acts below the surface of the skin and offers low to no downtime and give the fast result, then the PicoWay laser may be the right laser for you. 
BSL's certified dermatologists will evaluate and choose the parameter of PicoWay laser treatment to get rid of your acne scars or wrinkles or remove bothersome dark spots and tattoos that you no longer want.
Is the PicoWay laser safe?
Side effects such as a few hours of slightly redness and swelling after the treatment with the PicoWay laser are typically transient and expected as part of the laser treatment. Patients experience low to no downtime. In some cases, patients may use a topical anesthetic to enhance comfort during the treatment.
Are PicoWay treatments painful?
With PicoWay Resolve treatment, most patients reported low levels of pain during treatment.
Can I return to normal activities after treatments?
Yes, treatment with the PicoWay laser has low to no downtime. Most people can return to their activities of daily living shortly after treatment. 
What makes PicoWay different from other treatments?
PicoWay is a picosecond laser with high peak power and ultra-short pulse durations for a photoacoustic, rather than a photothermal effect that can overheat the skin. The majority of PicoWay patients report high patient satisfaction and low to no downtime.
Treatment with PicoWay at BSL Clinic has many benefits, including the following:
Is the only clinic in Thailand that provide " Picoway FUSION laser", which is the newest platform of picoway laser along with provide the full range of handpieces and to works safely and effectively for all of skin types from fair skin to even darkest skin.

Perform the treatment by team of certified dermatologists that have experience to treat patients with different skin type, ethics and races.

Clears all variety of tattoo colors and pigment skin problems with faster result than the other pigment removal laser.

Effectively treat acne scars, large pore, uneven skin texture, photo-damage skin and wrinkles.

Less discomfort and faster healing times.

Shorter pulse duration creates less damage, no scarring, complication, downtime. Patients can return to dairy activity right away after the treatment.